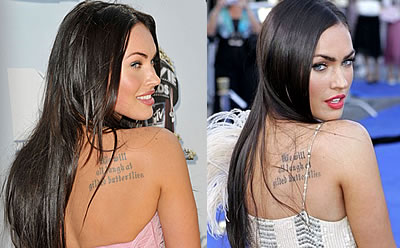 Megan Fox has some great tattoos and I really admire her 'in-your-face' attitude about them towards Hollywood. She's got quite a few tats, actually. Pictured on her shoulder: we will all laugh at gilded butterflies.
She seems to favor scripty words for her tattoos.
Here's some of the rest:
on her left side, under her arm, along her ribs.
on her right hip, really low
on her inner right forearm
inside her left wrist
inside her right ankle
She'll be reprising her role in the next Transformers movie.