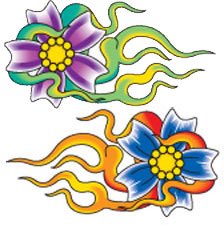 Flowers are one of the absolutely most popular choices. They work well on anyone and with large and small motifs they can fit nearly anyone for style.
Flower tattoos can be a stand alone flower, a bouquet or group of flowers, flower strung along a vine or the flowers can enhance and fill in around another design.
Flowers have always had meanings given to them – in Eastern cultures, the lotus is considered sacred, with roses being the choice in the west.  Flowers are the ultimate in feminine tattoos – since they have long represented women in folklore.
Popular flower designs include roses, daisies, lotus, hibiscus (especially hawaiian designs), morning glories, pansies, calla lillies and ivy.